About Us
Our company specializes in manufacturing high-quality Marine passenger seats for over 20 years. Our products are mainly used for passenger ferries, including high-speed ferries, and we have served shipyards and ship owners in more than 80 countries around the world. Our main market is located in Southeast Asia, including Thailand, the Philippines, Malaysia, and Indonesia.Throughout our 20 years of development, we have equipped ourselves with advanced manufacturing facilities and experienced employees. We have also obtained the IMO HSC type approval certificate by CCS, which has been recognized by various classes including DNV GL, RS, ABS, and Lloyd's.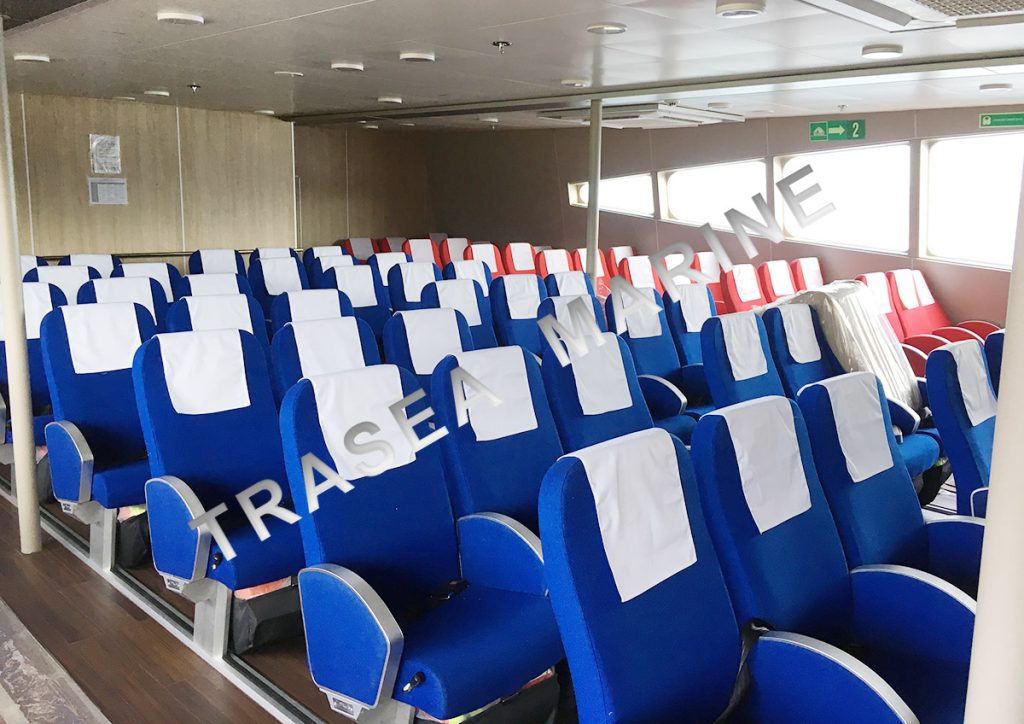 Marine Passenger Seats Introduction
We offer a wide range of types for both indoor and outdoor Marine passenger seats. For indoor Marine passenger seats, we provide our clients with different options for different class, such as economy class, business class, first class, and VIP class. We always provide a one-stop solution for shipyards and ship owners, whether they are building a new passenger ferry or refurbishing an existing one.
Various Seating Configuration
Our Marine passenger seats are made of high-quality aluminum 6063-T5, including seat skeletons, beams, legs, armrests, and aluminum tracks (rails) mounted on the deck floor. Our Marine passenger seats are tested to withstand 12G vessel acceleration by CCS (China Classification Society). We can produce our marine passenger seats into various configurations depending on the vessel's general arrangement, such as double seats, triple seats, and quadruple seats.
Fire retardant seat cover
We produce the Marine passenger seats covers with durable and fire retardant fabric and synthetic leather. We extent seat cover warranty period to 3 years from now on making clients rest assured for the service life of the Marine passenger seats they purchased. We have a lot of color options to meet the client special requirement.
Accessorie
We also offer various accessories that can be installed on the Marine passenger seats to provide passengers with a more comfortable journey experience and extra safety.
Life jacket storage bag is custom-made according to the ship owner's life jacket dimension. So that the life jacket can be fitted into the bag perfectly.
Every Marine passenger seats can be equipped with a snack table. For first row, snack table folded into armrest, for other rows, snack table at the back of the seats.
Seat belt can be fixed on each Marine passenger seats to give passengers extra safety.
Grab handle can be installed at the two sides of the Marine passenger seats to make it wave-proof.
Successful Cases
We have a lot of cooperation experienced with many world class companies. Austal is the perfect example to show Trasea's strength and ability in Marine passenger seats industry.
Austal as the world leading manufacturer for passenger ferry first contacted us in the year 2017 for the procurement of marine passeng seats for 3 vessels built in Cebu Philippines. We finally awarded as the ferry seats manufacturer for 3 passenger ferries after a long time and extremely strict inspection. The ferry seats for 3 vessels are successfully delivered to Cebu on time in year 2017. Austal speak highly of Trasea ferry seats and services after they received and installed. All the members from different department are satisfied with the first time cooperation experience with us.
After the first time successful cooperation experience , Austal placed another order of the ferry seats manufacturing for a 30 meter high speed catamaran next year. The capacity of the ferry is 300 passengers at speeds up to 25 knots. Trasea is more proficient the way to cooperate with Austal. After two months production, the 300pcs ferry seats were delivered to Austal with no delay. Trasea is proud to be first Chinese company to supply ferry seats to Austal and looking forward to the future cooperation.
Warranty
Our Marine passenger seats is durable and have a long service life . We also provide 5 years warranty for the aluminum frame and 3 years warranty for the seat cover. Trasea's capability and reliability make itself the best choise for ferry builder and ferry owner when it come to ferry seats.