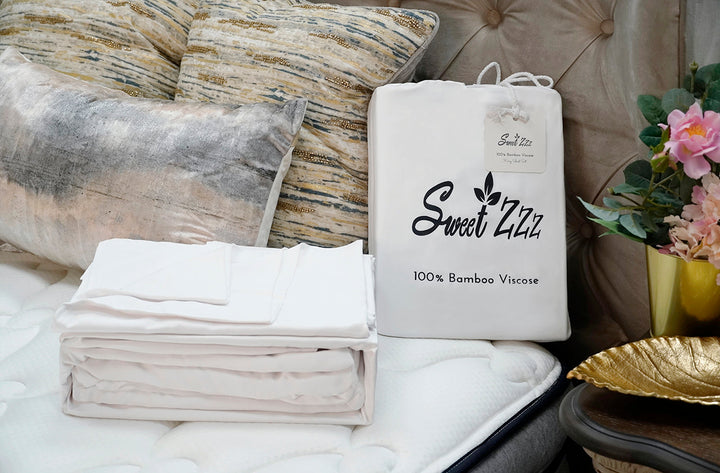 Make bedtime the best moment of your day. As? Finding the right sheets for you, with our help, of course.
Did you know that bedding can influence (a lot) the quality of your sleep? We read many tips and recommendations to buy bedding sheets for our bedroom, and now it's time to talk about sheets for a hotel bed. They are the ones who will ensure that you feel comfortable with the touch that is felt on your skin, whether they are warmer or cooler, that is, requirements that you need to fulfill to create the bed of your dreams. We give you a hand, bringing you four tips to find the perfect sheets for you .
Material is the key to everything
Cotton is the most consensual choice and the one that best combines comfort and durability. Bear in mind that there are several types, such as Egyptian or Pima, that are considered excellent materials. However, the most important thing is to ensure that the sheet is 100% cotton, remembering the organic versions.
Silk, satin, and linen are luxury fabrics for sheets due to their quality and softness. Remembering that they are also more expensive materials. For the cold ones, flannel sheets cannot be missing in winter.
Does the number of threads matter?
Some say yes, and some say no… Thread count is used to assessing sheets' quality, softness, and durability. The rule is: the greater the number of threads, the better the sheet. However, some argue this is not the case, giving preference to the type of cotton.
Pay attention to measurements and time to make the bed
Don't go on trust. It is important to know your mattress pad size to buy the right sheets, neither too wide nor too tight. This is the only way to ensure that you stay in the bottom sheet during the night when you turn over while you sleep. Or uncovered, if we're talking about the top one… Not to mention that it avoids the inconvenience of having to exchange or return them. Also, take into account the time to make the bed. See if an adjustable sheet (with elastic bands) makes life easier for you or if you prefer without.
Set or separately?
Because here, the rule is just one: choose the ones you prefer. Some prefer to keep everything coordinated and in order, opting for sets with a top sheet, bottom sheet, and even pillowcases. On the other hand, some want to create a mix of colors or patterns, so they must buy everything separately. You can also opt for a material for the sheets and silk (or satin).
With so many options available, deciding what sheets are right for your hotel can take time. However, considering the weave, thread count, and fabric, you can specify your choices and find the perfect bamboo bedsheets to create an authentic hotel bed that will leave your guests feeling rested and refreshed. 
Do you have any tips for choosing the right bedding? Don't hesitate to share!